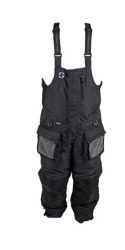 Striker Ice Climate Bib Black or Camo (Floating)
The Striker Ice floating Climate suit is the Ferrari of premium ice fishing suits. The premium ice fishing bib with flotation assist and a removable liner in the business! Makes for a great 3-season suit- wear it with or without the liners. You won't find a suit on the market that offers more features and benefits. Featuring the new infinitely adjustable inseam.

Features:

320D Tussor 5000/5000 Waterproof/Breathable outer shell

Removable 100g Thermadex insulated lining

Sureflote buoyancy material throughout bib

Articulated knees for improved comfort and flexibility

Additional padding in seat and knee areas provide extra protection and warmth

Infinite adjust leg cuffs make inseam length adjustable (patent pending)


3-way waist height leg zippers

Water drains for safely removing water if submerged (new-patent pending)


Reflective tape on front and back

YKK 2-way heavy duty (10 gauge) front zipper with EZP design

Magnetic storm flaps on front and leg zippers

Boot storm gators with gripper elastic

Adjustable suspenders

Fleece-lined chest pockets


Expandable cargo pockets

Soft Touch breast pocket for valuables

2 exterior D-rings for accessory attachment

Instant access openings to get to front under layer pockets

Elastic stretch panels at sides for improved comfort and flexibility

Beverage holder incorporated into thigh pocket

(patent pending)

Improved super-strong crotch panel (new)
Application:
The Striker Ice Climate suit is a premium three-season ice fishing suit capable of withstanding the harshest winter cold and wind but suitable for spring and fall use. The Climate has removable liners in both the jacket and the bibs. The jacket liner is a waterproof/breathable fleece-lined softshell jacket that can be warn by itself (retails for $99.95). The bib liner is also removable with full length leg zippers and zip-n-snap shell attachment. The jacket and bib shell is made of super strong but lightweight 320D Tussor with off the charts waterproof/breathability ratings. Featuring 800D Endura in the knees and 600D Endura in the lower leg areas, this is one tough suit.
HYDRAPORE 5000

HYDRAPORE system technology is specifically designed to provide maximum protection against extreme weather elements. HYDRAPORE has a superior 5000/5000 rating for resisting water penetration and for breathability.

WINDPROOF-WATERPROOF-BREATHABLE

Thermadex

Thermadex brand thermal insulation is designed for use in outdoor active wear where light weight, superior insulating performance and minimal loft is required. Thermadex provides a high level of warmth in active applications such as in alpine skiing, snow boarding, snowmobiling and nordic skiing. Thermadex provides warmth, softness and breathability without the bulk.

Microfiber Construction

Thin, Low-Loft Density

Ultra Light in Weight

Breathable Technology

SUREFLOTE

SUREFLOTE is made from expanded low density polyethylene foam that traps air in closed cells constructed into multi-layer membranes to create internal air pockets for added buoyancy. The SUREFLOTE membrane is moisture resistant and provides superior user mobility and added protection in the extreme cold. The combined jacket and pant/bib with SUREFLOTE provide flotation assistance for up to two hours for an average person. SUREFLOTE is designed to provide added buoyancy to a person's body weight for flotation assistance. An average sized adult needs 7-12 lbs of buoyancy to keep their head afloat. Suits with the SUREFLOTE system are designed to provide approximately 10-12 lbs of buoyancy depending on size and style.

Important: SUREFLOTE is Not Coast Guard Approved. This item is not approved by the Coast Guard as a personal flotation device or life preserver. SUREFLOTE may be rendered ineffective in adverse conditions such as strong water currents. The SUREFLOTE system does not protect against hypothermia in extreme cold water.

Striker Brands LLC has patents pending for a number of technical features found in this garment.
Striker Ice Climate Bib (Floating)


JACKETS

S
M
L
XL
2XL
3XL
4XL
Chest
37 - 39
39 - 42
42 - 45
45 - 48
48 - 51
51 - 54
54 - 57
BIBS

S
M
L
XL
2XL
3XL
4XL
Waist
29 - 31
31 - 33
33 - 35
35 - 37
37 - 41
41 - 45
45 - 49
Inseam*
24, 27, 30
26, 29, 32
29, 32, 35
29, 32, 35
29, 32, 35
28, 31, 34
28, 31, 34
* Using our proprietary Triple Play Cuff system 3 different inseam lengths can be achieved. The chart above indicates the lengths attainable for each size.
Note:

The above size chart reflects the correct sizing information for the

Striker Ice

jacket and bib. The

Striker Ice

HardWater jacket and bib fit slightly smaller than the

Striker Ice LITE

jacket and bib due to the additional 75g of Thermadex insulation and heavier shell material. The Climate jacket is also sized slightly smaller so that it can be worn as a shell without the lining. The tall sizes are 3 inches longer. Size 5XL is proportionately larger than 4XL.